Tattoo Removal Edmonton. The fastest laser tattoo removal technology!
PicoSure® is the world's first and only picosecond aesthetic laser. This unparalleled breakthrough in laser technology delivers ultra-short pulse bursts of energy to the skin in trillionths of a second.
EDMONTON LASER TATTOO REMOVAL
The Cynosure Picosure Laser Pulses 1,000 times faster than a nano second. This laser technology enables us to provide a better and faster result with tattoo removal and pigmentation reduction. This amazing laser creates less damage and scar tissue build up during tattoo removal treatments then your original Q-Switch style laser. Tattoos respond better and faster with Picosure treatments than with Q-Switch lasers, as when there is less scar tissue to treat through, the laser is more effective at targeting the molecule of ink in the tattoo itself.  Book a free consultation with our Edmonton tattoo removal team. We'll discuss how the treatment works and what length of time and costs can be expected to refresh your skin.
Picosure can effectively treat all colors of ink, and we can even remove parts of tattoos that may need to be fixed or redone. This is a great solution for anyone wanting to have a cover up done on an existing tattoo that is maybe too dark to be properly covered. You can see a lightening of ink in as little as 3-5 treatments, and full removal in 6-12 treatments.
Please note; Due to the variety of ink compositions and tattoo styles and ages, Full removal could take more than 12 treatments in some cases.
Please book a free consultation with one of our Certified laser technicians to discuss your Picosure tattoo removal options!
"I went into Urban Lasers & Aesthetics for tattoo removal. The laser tattoo removal treatment I received was excellent. I have had a prior treatment somewhere else and I had concerns which were addressed professionally and I am extremely happy with the results. Thanks!"
– Melissa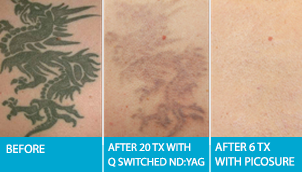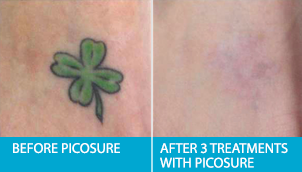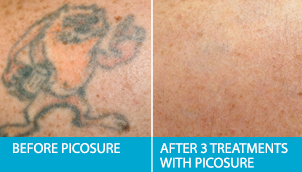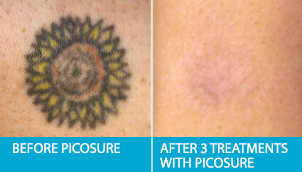 Tattoo Removal: Picosecond vs. nanosecond technology
Traditional nanosecond lasers predominately rely on photothermal action, delivering heat to the pigment and surrounding tissue for tattoo removal. PicoSure takes advantage of PressureWave Technology to shatter the target tattoo ink into tiny particles that are easily eliminated by the body. Book a free consultation for tattoo removal.

Ultra-short Pulse Duration Is the Difference
A Picosecond measures at 1,000 times faster than a nanosecond. The faster the pulse, the smaller we can break down the molecule of tattoo ink. This ensures faster tattoo removal times with less treatments needed than the traditional Q-Switch laser!  Contact Us for More Info.

Laser Tattoo Removal. Frequently Asked Questions.